Nursery
Welcome to Fawcett Nursery.
Please remember to log in to your Tapestry account where Miss Kent has been sharing some of her favourite stories for the children to enjoy and setting weekly challenges.
19 May 2020
This week we are focusing on the "T" sound. Watch the video on Tapestry where we find things beginning with "t" and play "Kim's Game". Maybe afterwards you could play the game with your family? We are also thinking about staying active while we are at home and how important it is to moving in different fun ways to keep our bodies healthy. Why not try our exercise alphabet game? Enjoy the sunshine and have fun!
11 May 2020
Please remember to log in to your Tapestry account where Miss Kent has been sharing some of her favourite stories for the children to enjoy. This week we will also be starting weekly challenges on Tapestry with an introduction to the "s" sound. Can your child find anything around the house or on a walk which starts with "s"? We would love you to share pictures of anything they find. Later this week we will be going on a sign hunt and practising our scissor skills.
Mrs Moseley found a snail and Mrs Maiorana found a sock! What else can you find beginning with "s"?
21 April 2020
Thank you to Hana for sharing a photo of her wonderful rainbow!
Update: Thursday 9th April HAPPY EASTER!
We hope you all have a lovely Easter weekend despite the current situation. Thankfully the sun is meant to shine! We have added a new 'Home Learning' tab on the menu to the right. Please look here for lots of fun, engaging, learning activities you can complete at home. We would love to see which ones you complete so please upload a comment and/or photo to Tapestry when you can. We can then communicate back even though we are not at Nursery together at the moment!
Reminder
Can we remind you all to look through your emails and find the one from Tapestry. Please use the email to activate your account so you can see pictures and comments from your child's time in nursery and you can upload any fun things that you are doing at home. We hope to be utilising this platform a lot more after Easter, so please make sure you are signed up and contact the school office if you have any further questions.
Please see the 'Tapestry' tab to the right for more answers to any Tapestry questions e.g. how to create a home observation of your child.
Online Learning
Finally on YouTube there is a lovely short story clip to help with explaining staying indoors/ not seeing friends or grandparents to little ones.
Search for: 'Time to Come in,Bear: A Children's Story About Social Distancing. '
Here are some useful websites for you to visit:
http://cambslearntogether.co.uk/home-learning Cambridgeshire County Council's Education Department have brought together some super resources for you. Visit the website and choose Early Years. You will find some great website links and daily challenges.
https://abcdoes.com/home-learning/ This website has some fantastic early years activities for you to try.
https://www.bbc.co.uk/cbeebies/shows/numberblocks Support with developing understanding of number.
https://www.bbc.co.uk/cbeebies/shows/alphablocks This will help your child with their phonics.
https://www.nationaltrust.org.uk/things-to-do The NT have pulled together some great craft, baking and garden activities for you to explore.
https://www.topmarks.co.uk/ This is a good website for all sorts of games and activities.
Many of the Zoos and aquariums have great websites with virtual tours of various animal enclosures. Maybe visit the butterfly house at Chester Zoo and then draw or paint some butterflies!
3rd April 2020
As we all spend some necessary time at home, we hope to regularly share fun ideas here to keep our Nursery children busy and help keep their minds and bodies active. We send our best wishes to all of our families and their children at this difficult and confusing time.
Thank you to Daphne and her family for sending us this picture of her with her fantastic rainbows. What a lovely smile!
---
Update: Thursday 2nd April
Hello everyone!!
Today, some members of the Trumpington Federation are meeting together, virtually, to read to you our own version of the book: Stay at home.
Find your template and certificate at the bottom of this page 🦸‍♀️ 🦸‍♂️
---
23 March 2020
In the news, we were touched to see that children across the country are drawing and painting rainbows and sticking them in their home windows to share a message of togetherness and hope. Perhaps your child would like to do the same? If you are happy to share a photo of their creations please email them to the school and we can post them here for the children to enjoy.
Here are Miss Kent and her daughters, Katherine (10) and Georgie (8) with their rainbows; we would love to see yours too!
26/3/2020
Thank you Leon (4) and Ollie (7) for sending us photos of your gorgeous rainbows!
And look the beautiful rainbows that Miss Doyle, Mrs Maiorana and Mrs Moseley made!
Please continue to share your rainbows with us by emailing them to the school office.
We wish you all a healthy and happy Easter. Please check back at the start of the new term when we will be sharing more some fun ideas to try out at home.
-------------------------------------------------------------------------------------------
We have been sharing the story of Little Red Riding Hood this fortnight. We have been learning all about wolves and the children enjoyed dressing up as the Big Bad Wolf and practising howling at the moon!
Happy World Book Day!
Well done to all the children who came into Nursery today dressed as a character from one of their favourite books. We observed lots of lovely imaginative role play and retelling of stories inspired by their costumes.
January 2020
Our new topic is Fairy Tales. Our first story was Goldilocks and the Three Bears. The children have had teddy bears' picnics, practised the language of different sizes and learned about bears in the wild.
February 2020
Our new story is The Three Little Pigs. We have done experiments with hairdryers to find out which materials blow away easiest; colour mixing to make pink and using different shapes for our paper plate pigs. The children have spent time making their own dens outside and retelling the story in their imaginative play.
This half term we have enjoyed lots of large scale mark making.
19/11/2019
Look at our beautiful Autumn crowns!
12/11/2019
At Nursery this week, we have been learning all about Autumn and the changes we can see and feel outside. Thank you to all the children who collected leaves for us, we saw so many different shapes, sizes and colours! We plan to start making our Autumn crowns next week. We have all noticed how chilly it is getting; please make sure that your child brings a warm coat and a hat and make sure that they are named.
Last week we shared exciting stories about watching and listening to fireworks and enjoyed making brightly coloured firework pictures using kitchen roll tubes!
As part of the same topic, we have also been using our imagination and glueing skills to make junk modelling rockets.
We have started collecting items for our Nursery Christmas hamper which will be a prize at the Christmas Fair. This year our colour is GOLD, so we would be grateful for any golden coloured or wrapped donations. Thank you for your assistance with this!
31/10/2019
Happy Halloween from Fawcett Nursery!
10/10/2019
We are now a month into our Autumn term at Nursery and the children have settled well and are getting used to our routines. We have made bunting to decorate the classroom, printed with our hands and drawn brilliant pictures of ourselves.
INDIVIDUAL SCHOOL PHOTOS
Children who attend Nursery on a Friday morning will have their photos taken within the session on 11 October 2019 at 9.35 am. If your child does not attend Nursery on Friday mornings, you are welcome to bring your child to have their photo taken, but must accompany them. Please wait in the office area for us to take you through to the hall. If you would like your child to have a photo taken with a sibling who also attends Fawcett Primary School, please come to the office between 8.20 and 8.50am or 3.00 to 3.30pm. You will be required to accompany your children to the hall.
SCHOOL APPLICATIONS
Parents of Nursery children born between 1 September 2015 and 31 August 2016 must apply for a primary school place before 15 January 2020. We are sending home information about how to apply online; parents will be asked to sign a register to show that you have received this information.
APPLE PRESSING
We will be borrowing an apple press for the week commencing November 4th. The children will have the exciting opportunity to help press apples to make juice. Any spare apples you have collected or bought would be very much appreciated!
5p CHALLENGE
We are collecting 5 pence pieces and any other small coins as part of the school 5p challenge. Please bring in any small change that you find in the bottom of your purse and your child can put them into our collection bottle. Thank you for your support!
17/05/2019
We have watched an amazing transformation take place over the last couple of weeks. Our caterpillars spun cocoons and then hatched into beautiful butterflies! Finally yesterday we had a special circle time outside in the garden and waved goodbye to our five butterflies as they fluttered away in the sunshine.
The children have all been painting mini-beasts pictures and have enjoyed moving around the big field in different ways, including crawling like caterpillars and flying like butterflies.
We have been focusing on numbers in fun ways this half term and have seen some huge progress in the children's counting and number recognition. Well done everyone!
02/05/2019
Our new topic this half term is MINI-BEASTS.
We received an exciting special delivery from the postman this week - five baby caterpillars! They have been busy eating and have already grown lots. The children are keeping a close eye on them to see what happens next...
We have all enjoyed hunting for mini-beasts in the garden, under stones and in our wild flower patch. So far we have found snails, spiders, shield beetles, ladybirds, woodlice and beetles.
Other mini-beast activities the children have explored this week include:
finding insects in the gooey slime
playing the counting ladybird game
making pipe cleaner and bead caterpillars for our tree
drawing spiders outside on the ground with chalk
drawing caterpillars
practising writing our names next to our favourite bug
01/05/2019
Sunhats and Suncream Policy
Now that the weather is getting warmer, please make sure that your child always has a named sunhat with them at Nursery. Also, please ensure that you have applied suncream to your child's face, neck, ears and other exposed parts of the body before the start of the session. If your child attends Nursery for a full day, Nursery staff are able to re-apply suncream after lunch. If you would like your child to have suncream reapplied, please sign our consent register and provide us with a named bottle of suncream. Thank you!
22/3/2019
Linked to our story this fortnight, Jack and the Beanstalk, the children all planted beans and we have measured everyone in the class, adding a leaf for each child to our measuring beanstalk.
In the lead up to Easter, we have been modelling with clay and making egg cups. They are now drying and will be ready to paint next week!
15/3/2019
Fee Fi Fo Fum! We have been sharing our new story: Jack and the Beanstalk. We are learning about what a plant needs to grow and are looking forward to planting beans next week!
The children have been using shapes to make flower collages.
And we all had great fun dressing up for World Book Day!
4/3/2019
Our new story is The Three Little Pigs. We have been painting paper plate pigs and now know that we need to mix red and white to make pink.
The children were excited about the arrival of our new classroom recycling bin and have been keen to start using it. We have also been learning all about recycling with a game on the interactive board.
The children have noticed signs of Spring in our Nursery garden and have enjoyed painting pictures of daffodils.
8/2/2019
"Run, run, as fast as you can; you can't catch me I'm the gingerbread man!"
The children have enjoyed joining in with the repeated refrain from our new story: The Gingerbread Man.
We have been exploring lots of different gingerbread man activities: transient art, playdough and counting the gingerbread man's buttons.
24/1/2019
Grandparents
We have been talking about our grandparents (linked to Little Red Riding Hood's granny). Your child is welcome to bring a photo of their grandparent(s) into Nursery to share with the class at Circle Time. Please give any photos to a Nursery adult at the start of your child's session.
Little Red Riding Hood
The children are enjoying sharing our new fairy tale Little Red Riding Hood. We have explored red sensory and water play, found out about wolves and talked about what we use our ears, nose, eyes and teeth for.
Making cupcakes
The children have been making cupcakes, just like the ones that Little Red Riding Hood took in her basket to her grandmother.
Winter outside play
We have been noticing the changes in the weather this week. Outside we explored the ice and discovered different ways to make it crack.
Kindness Wall
We have been thinking about different ways to be kind to each other. Look how tall our kindness wall is growing. Well done Nursery children!
Recognising names
The children have been working hard on recognising their names at snack time. We have seen amazing progress over the last week in how quickly the children are finding their snack mats.
Fawcett Nursery Lending Library
We have started sending books home with the children to share at home. Thank you to those families who have returned their first book after enjoying it with their child. Many of the children have been excited about choosing a new book at home time.
18/1/2019
Parent Notices
Unfortunately parents are still reporting cases of head lice in Nursery. Please check your child's hair weekly. If your child has lice, treatment is required every three days for nine days so as to catch the newly hatched lice. We are grateful for your help. Let's work together to completely get rid of head lice from our classroom. For further information please visit the NHS website https://www.nhs.uk/conditions/head-lice-and-nits/.
We are finding that some children are having toileting accidents at the start of a nursery session. Please make sure that your child has been to the toilet before the start of the session at home or please encourage them to use our nursery toilets as soon as they arrive. Obviously, we will continue to remind them to use the toilet throughout the day.
Thank you for your continued support and understanding!
17/1/2019
FAWCETT NURSERY LENDING LIBRARY
We are delighted to be able to introduce our new lending library. Sharing books with children from an early age has been directly linked to improved literacy outcomes. You can make a big difference for your child at home. Children at Nursery will be given the option to choose a book to borrow from our trolley to take home and share with family and friends. We will keep a log of which books have been taken home. Please could parents return the book to Nursery within a week and keep it safe and in a good condition, so that other families can enjoy it in the future. We would also be grateful for any donations of books to add to our library.
We are coming to the end of our final week of sharing the story of Goldilocks and the Three Bears.
Giant teddy bear collage
Eating porridge like Goldilocks
Making and wearing teddy bear ears to help us retell the story
7/1/19
Goldilocks and the Three Bears
We have also been talking about our likes and dislikes. Our favourite fruit in Nursery is strawberries!
3/1/2019
Happy New Year from everyone at Fawcett Nursery!
IMPORTANT: the deadline for applications for your child's school Reception place is 15 January 2019. Please ensure that you have applied online by this date.
5/12/2018
We are getting ready for Christmas! Painting the star for our Christmas singing, decorating salt dough decorations and hanging them on the Christmas tree.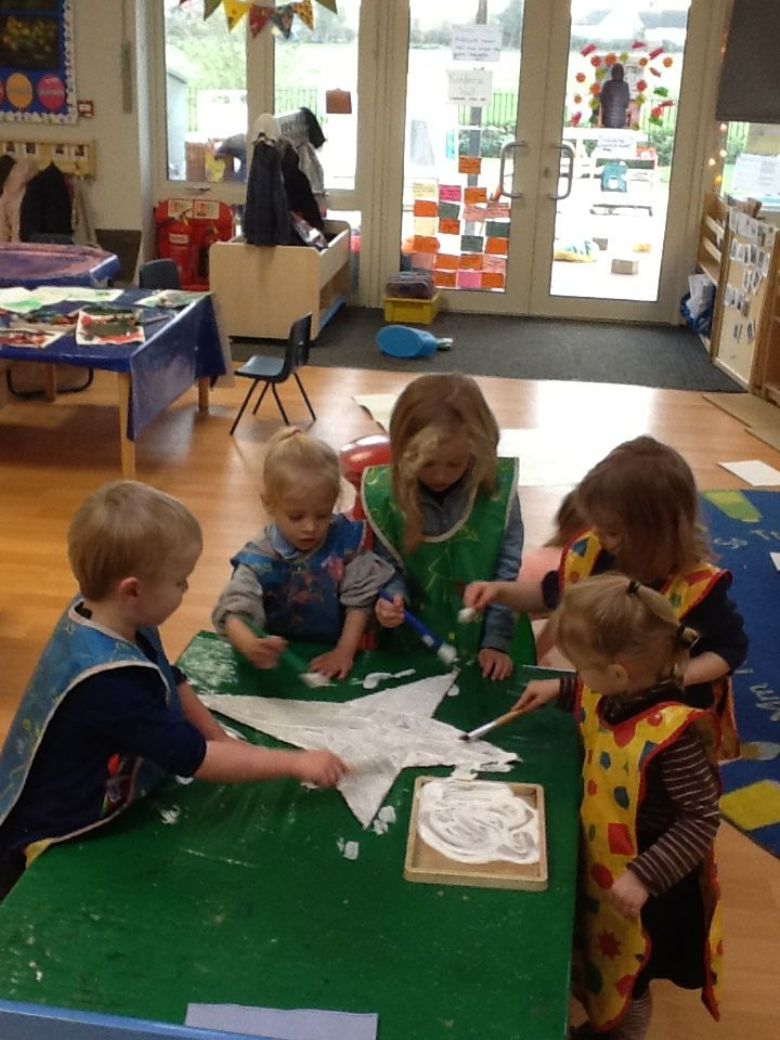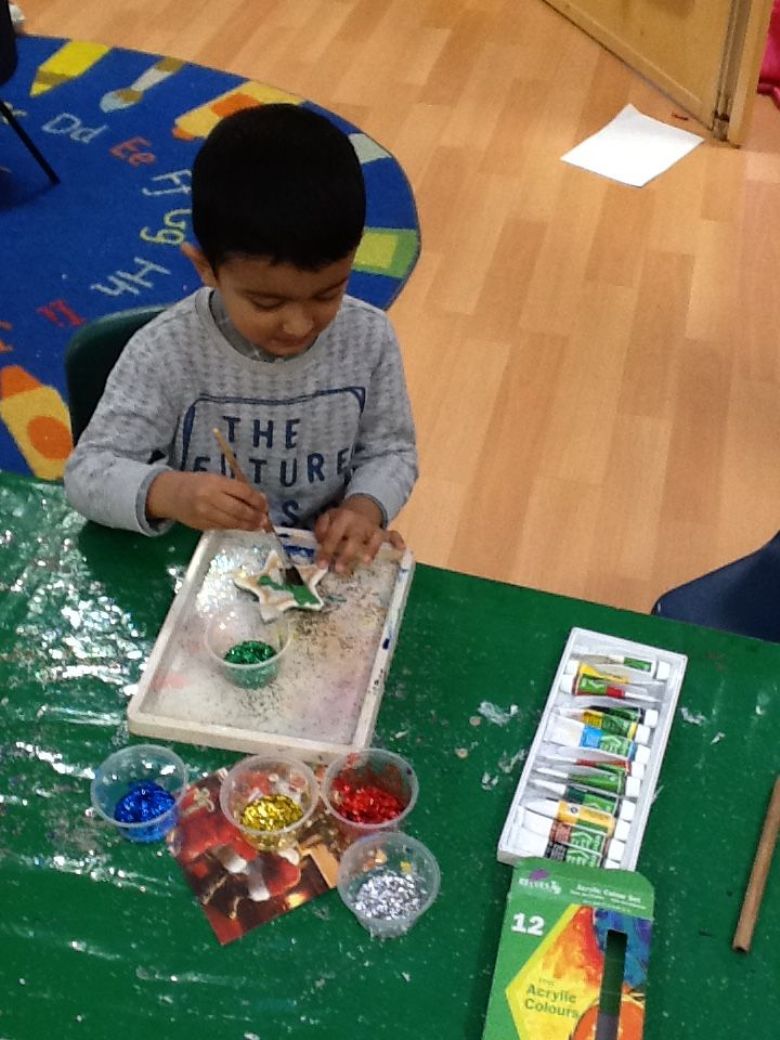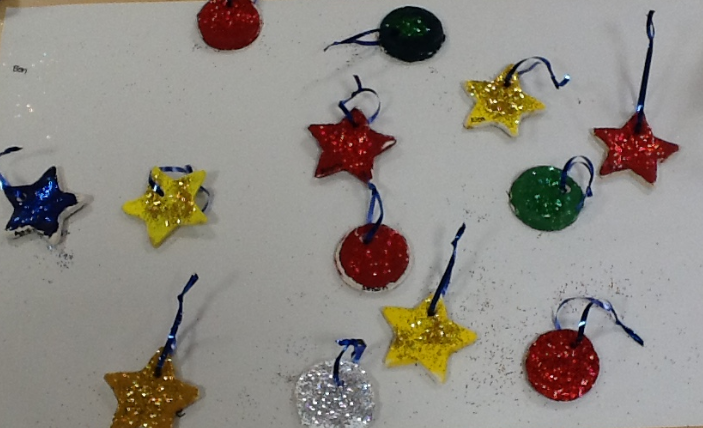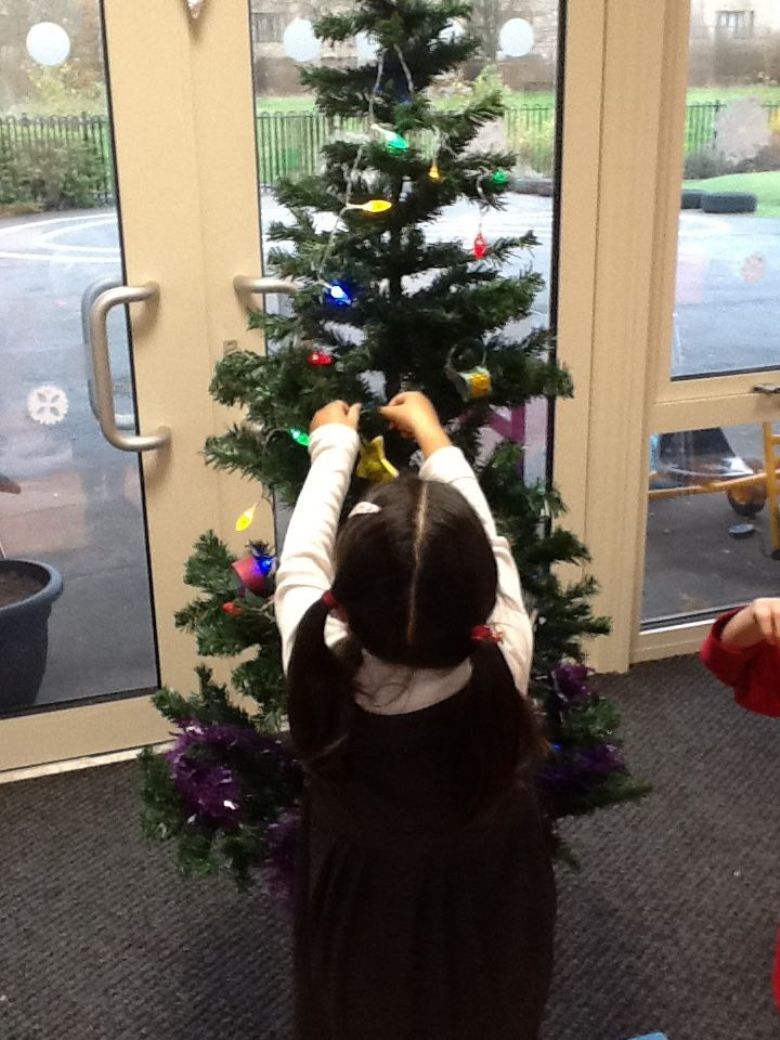 4/12/2018
Children who attend Nursery on Thursdays are invited to bring some money for the Surprise Room on 6th December. Presents can be bought for £1.50. Maximum two presents per child (£3). Further details can be found in the email sent to Federation parents and carers.
29/11/2018
Introducing shapes at Circle Time. Can you name your shape and put it in the right place?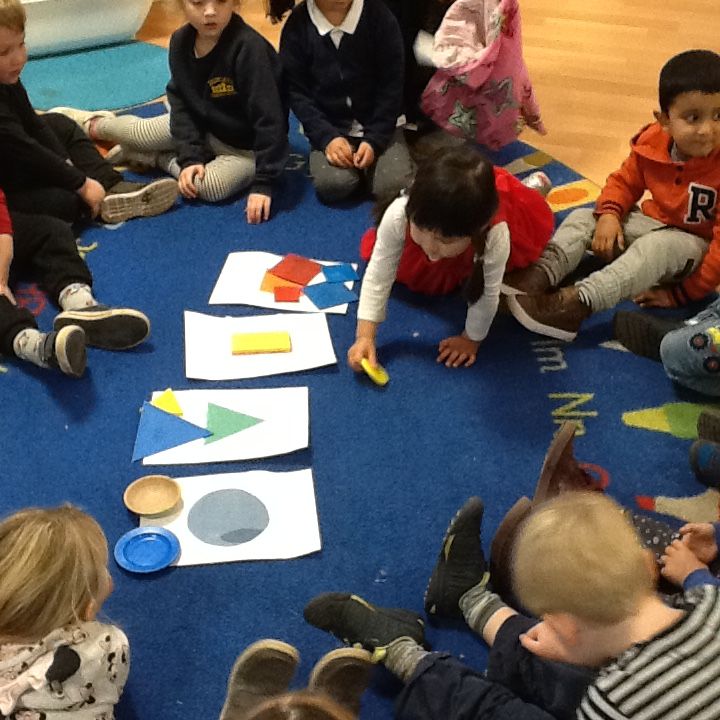 This week we have been sharing the story of The Black Hat. The children have drawn pictures and had a go at retelling the story in their own words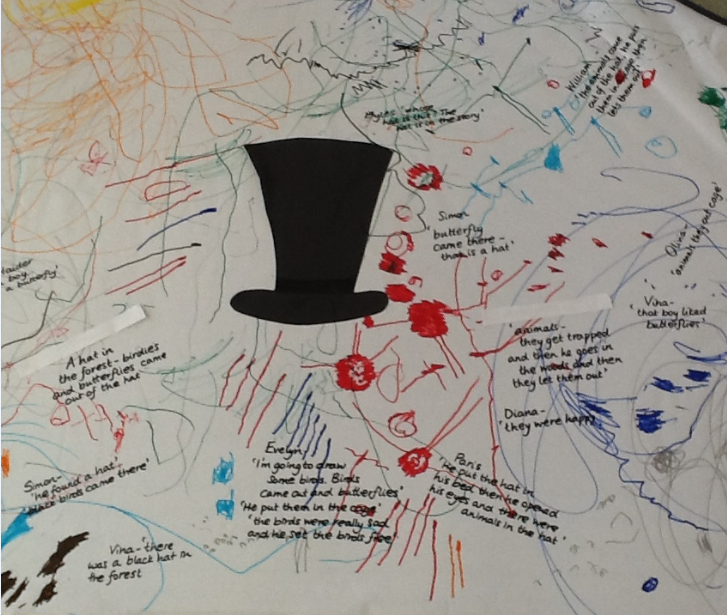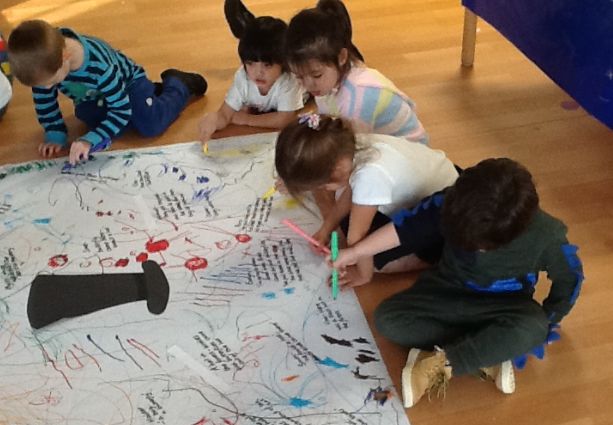 KEY CHRISTMAS DATES
* 11 December Afternoon Session Christmas Party. Children normally attending nursery on Tuesday afternoons are invited to an afternoon of Christmas fun, dancing and games. Children are welcome to wear something festive or a favourite party outfit.
* 12 December 12.30-1.15 Nursery Christmas Singing Celebration. Parents and carers are welcome to join us for Christmas arts and crafts followed by some Christmas singing.
* 13 December Morning Session Christmas Party. Children normally attending nursery on Thursday mornings are invited to a morning of Christmas fun, dancing and games. Children are welcome to wear something festive or a favourite party outfit.
26/11/2018
Look at us mark making outside this morning!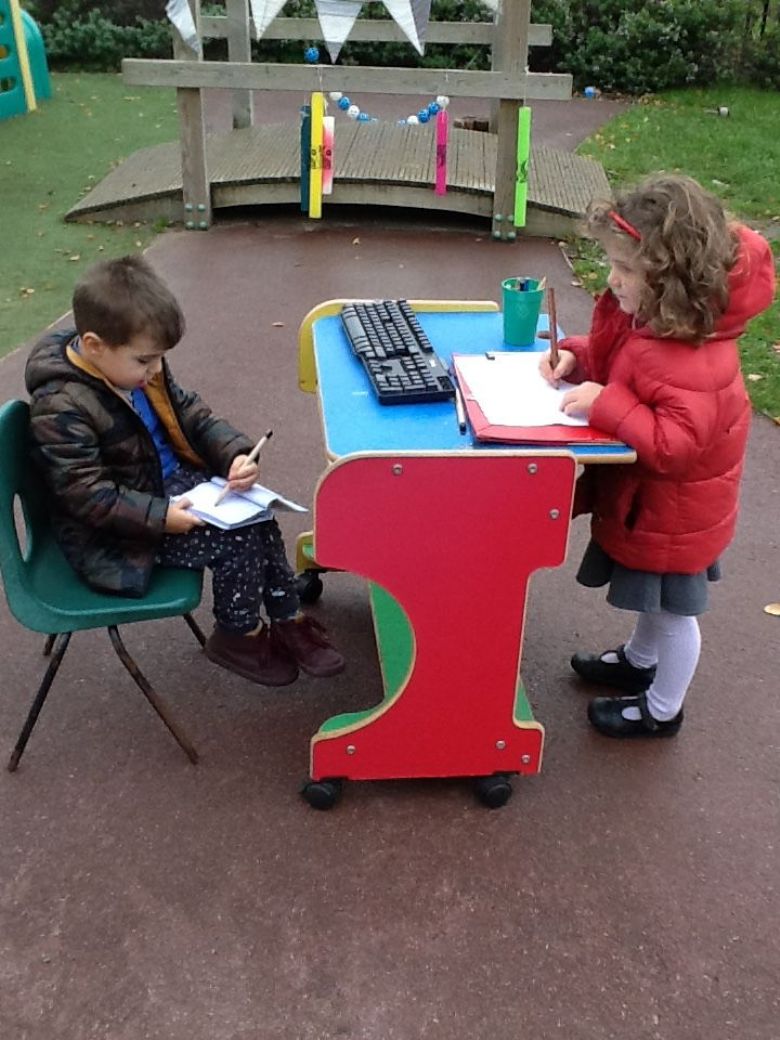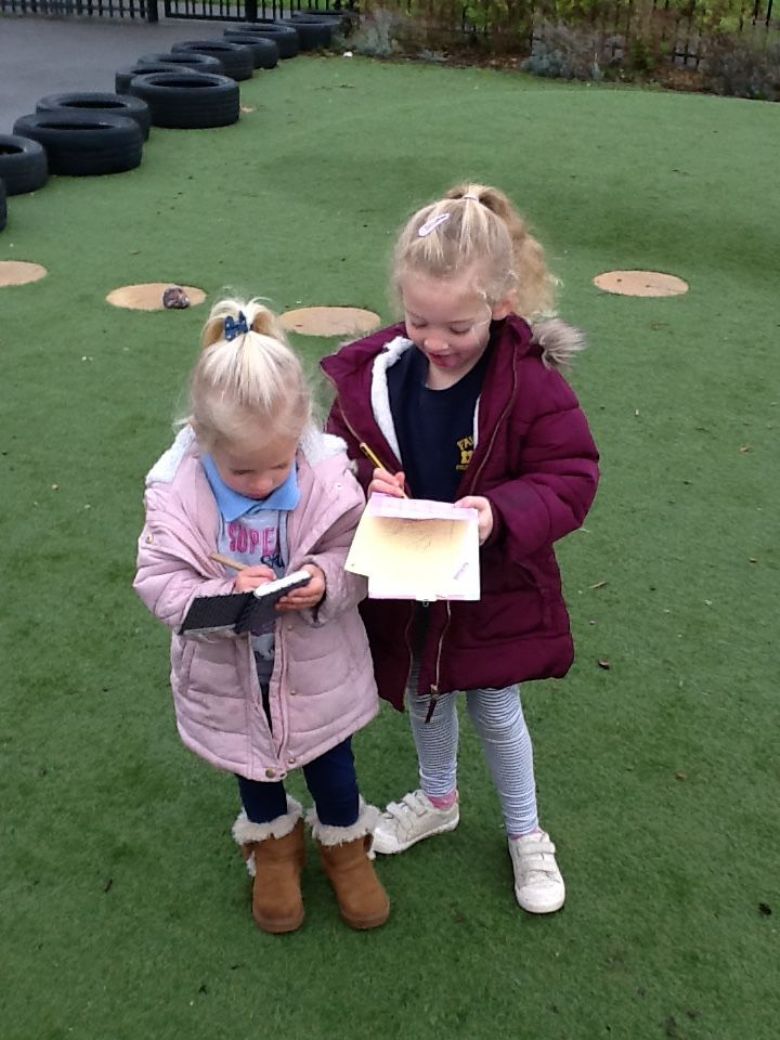 22/11/2018
*We plan to decorate the classroom with the children in the first week of December. If you have any spare Christmas decorations they would be very much appreciated. Thank you!
20/11/2018
Introducing repeated patterns today at Circle Time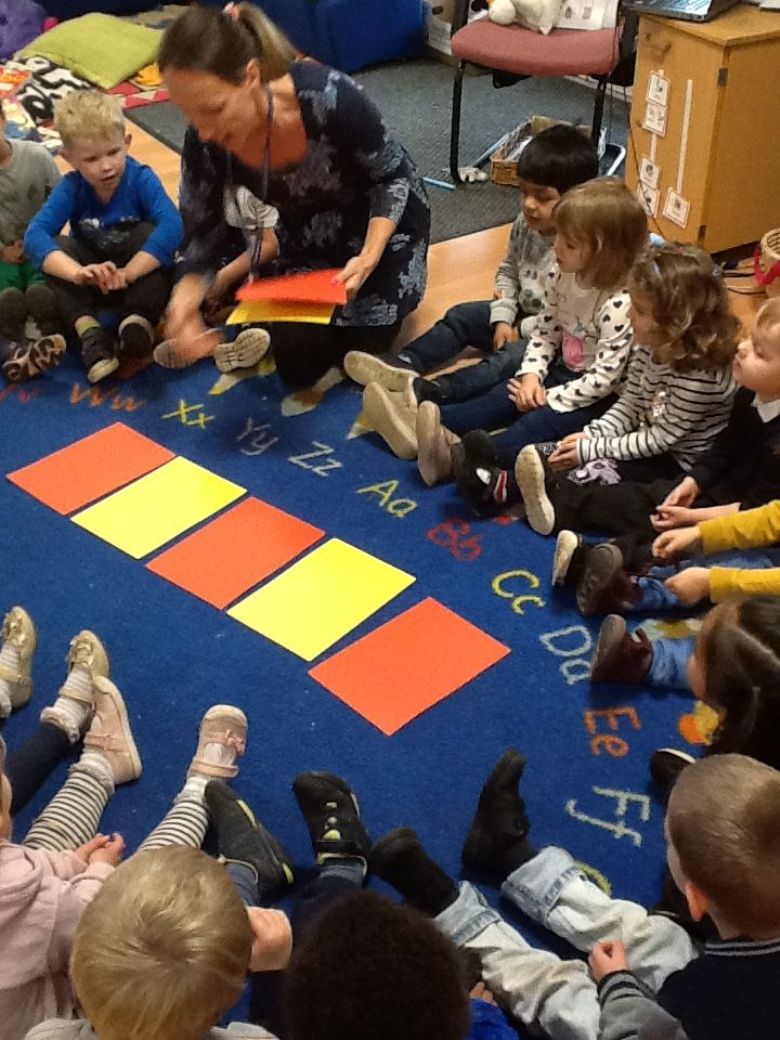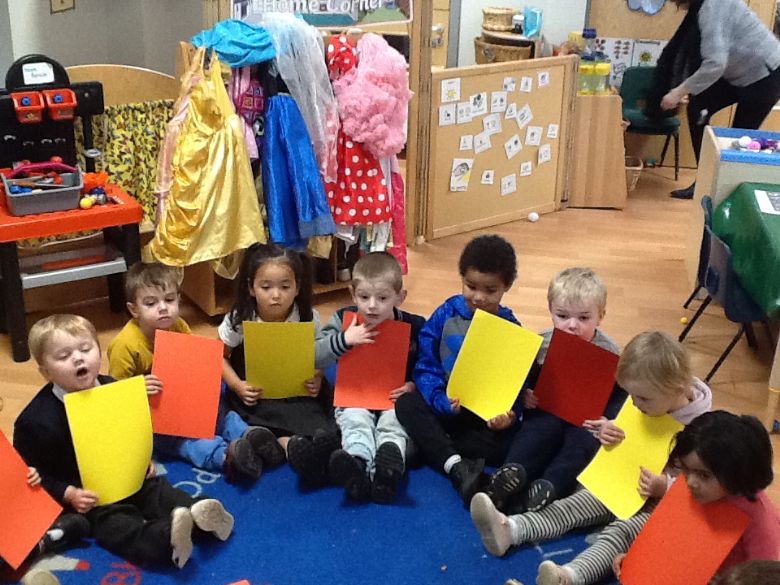 19/11/2018
Sharing our story of the week "Shark in the Park".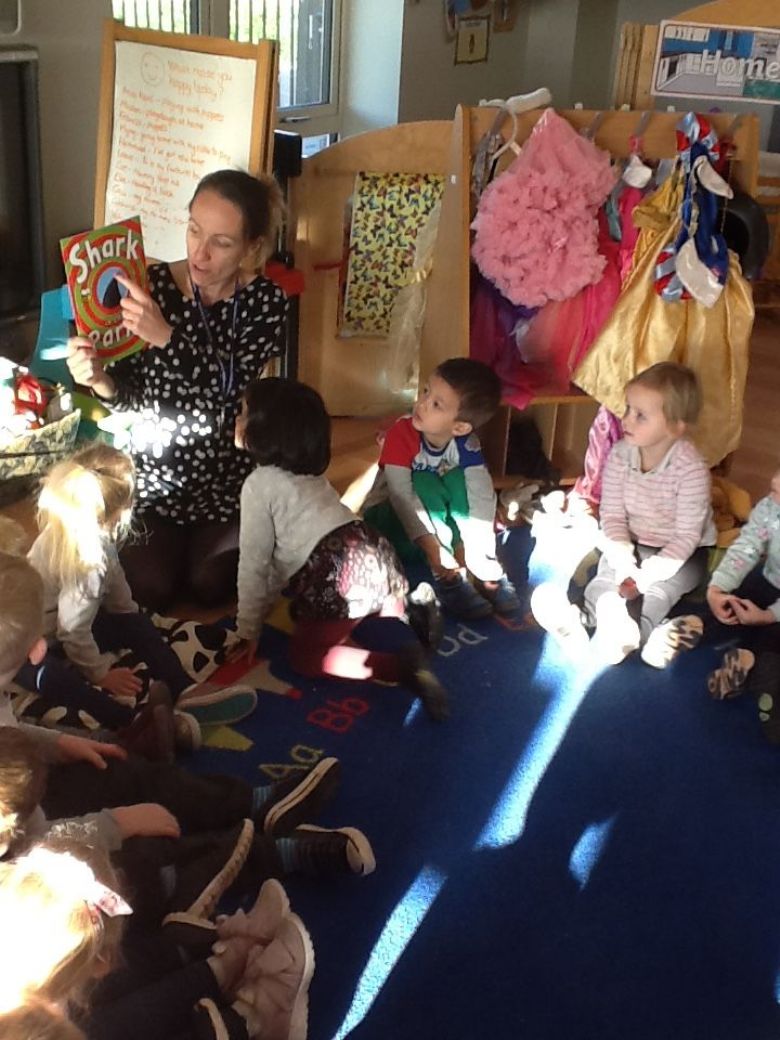 Looking through our telescopes like Timothy Pope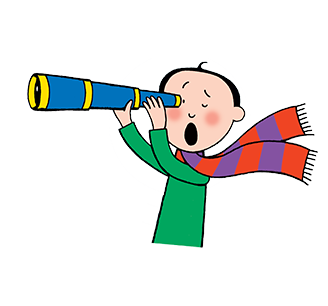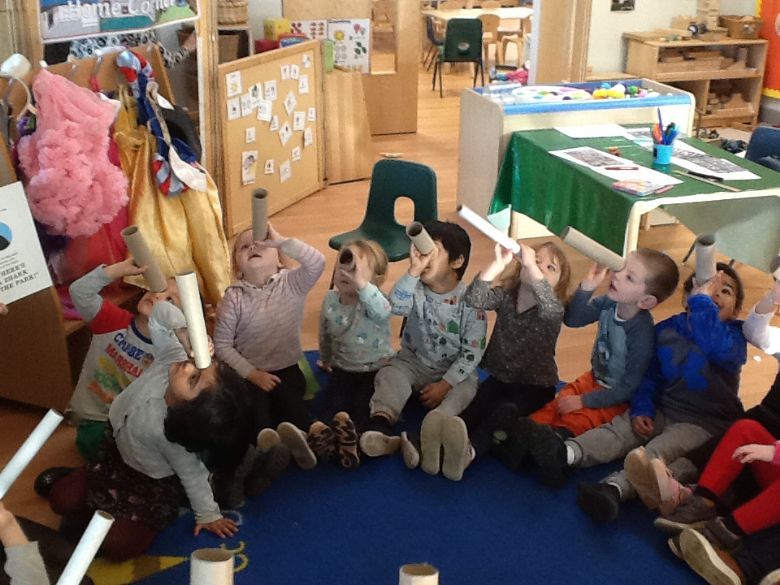 16/11/2018
Thank you to all the children who came to Nursery today wearing spots or pyjamas and raising money for Children in Need!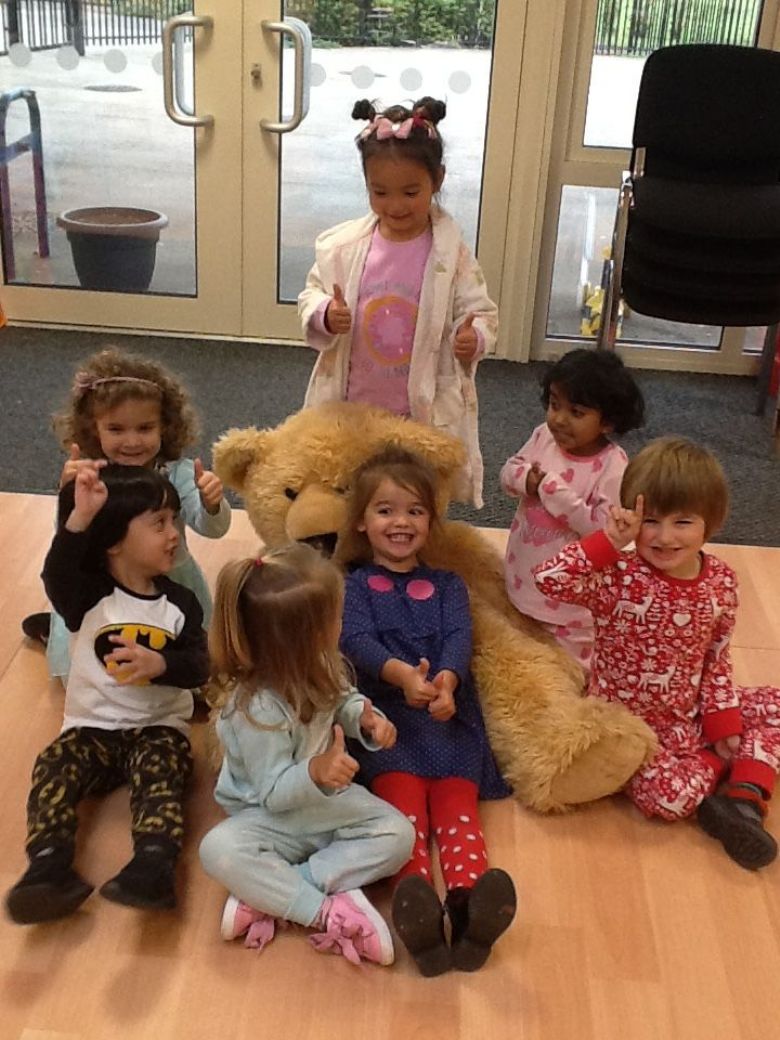 PARENT NOTICES:
15/11/18
* PLEASE REMEMBER THAT SCHOOL PHOTO MONEY MUST BE RETURNED BY 16/11/18
*CHILDREN IN NEED FRIDAY 16th NOVEMBER - CHILDREN ARE WELCOME TO WEAR PYJAMAS OR ANYTHING SPOTTY AND BRING A £1 DONATION
*WE WILL BE MAKING AND DECORATING TELESCOPES NEXT WEEK AS WE SHARE OUR NEW STORY "SHARK IN THE DARK". PLEASE BRING IN KITCHEN ROLL OR TOILET ROLL TUBES IF YOU HAVE ANY.
* WE NEED SHOE BOXES TO MAKE NURSERY RHYME BOXES. IF YOU HAVE ANY AT HOME THAT YOU NO LONGER NEED WE WOULD BE VERY GRATEFUL. THANK YOU :-)

In Nursery we learn through play and playful activities (for example, going on a listening walk, looking for shapes in the outdoor environment and making constructions). We have guided learning sessions with our teachers throughout the day in small groups. We gather together to sing songs, play games and listen to stories. Each half term our learning begins with a topic as a starting point to engage and inspire the children. Within this is the opportunity for the children's own interests to develop and direct the course that the topic will take.
In Nursery we follow the EYFS curriculum which is based around the following seven areas of learning:
Personal, Social and Emotional Development
Physical Development
Communication and Language
Literacy
Mathematics
Understanding the World
Expressive Arts and Design
We also plan activities and resource our environment to encourage children to develop their own 'Characteristics of Effective Learning'. Beginning to develop these skills, such as perseverance, taking a risk, thinking critically and making links, will equip them as learners throughout school and beyond.
Things to bring to Nursery:
A full change of spare clothes - Please ensure each item is named and available at Nursery every day (these can be left in a bag on your child's peg)
A pair of welly boots (again please label these with your child's name and leave at Nursery on the welly racks)
A warm, waterproof coat
A sunhat (during the spring/summer months)
A bag/book bag for your child's drawings/paintings etc and letters
If your child is still in nappies please provide spare nappies, nappy bags and wipes.
Provided by Nursery:
Snack – a piece of fruit or vegetable (carrots, tomatoes, bananas, apples, pears, tangerines and raisins)
Milk and water (water provided in a named water bottle)
Important Information:
Morning session: 8:45 - 11:45am, afternoon session: 12:15 - 3:15pm
If your child attends full day sessions there is a charge for the half hour lunch club from 11:45am-12.15pm. Children can bring a packed lunch or order a school meal.