Kings Class - Mrs McIntosh
Reminders:
*** Every day your child must bring their book bag into school. This must contain: phonics folder (purple), spelling folder (blue), library book and band book. ***
The final collection date for topic homework is December Friday 14th of December. If homework is brought in before this date, we will keep it safe and ready for sharing on the 14th. However, please keep any large house models at home, as unfortunately we do not have the space to store many of them! Thank you for your understanding.
---
Phonics: Our sounds this week are /qu/ (e.g. queen); and /oy/ spelt oi and oy (e.g. coin and toy). We will discuss how the same sound can be spelt these different ways.
Mathletics is up and running! Please spend about 30 minutes per week on the assigned Mathletics challenges. This will be updated weekly. Children's log-ins are the same as last year, however they will also be stuck into your child's Homework/Spellings folder.
---
Week Beginning 5th November 2018
This week, King's Class had an exciting Art lesson. We learned about mixing primary colours to make secondary colours, and we even had a go at mixing our own paints! Then we used these paints to make some art work inspired by Bonfire Night. We talked about why Bonfire Night is celebrated, and had an excellent discussion about where the Gunpowder Plot happened before or after the Great Fire of London (Answer: before!).
The children used bright colours to paint firework-inspired designs on black paper. Hopefully, you have seen the fabulous outcome of this lesson, as the art was sent home on Friday. I hope you agree that they look fantastic!
---
Week Beginning 29th October 2018
This week we returned to school after a relaxing week off.
We had a very exciting afternoon on Monday. After spending a few lessons constructing a model of a Tudor house, we simulated the Great Fire of London by burning them! Below are some photos of the exciting lesson. Thanks to Mr Bass for helping Ms Stow and I set this up.
---
Hello and welcome to the page for Year 2 King's Class! During Autumn term we are learning about the Great Fire of London through our Topic lessons. So far, we have learnt about how the fire started; how and why the fire spread across the city; how the fire was eventually put out; and now we are learning about changes that were put in place to stop it happening again.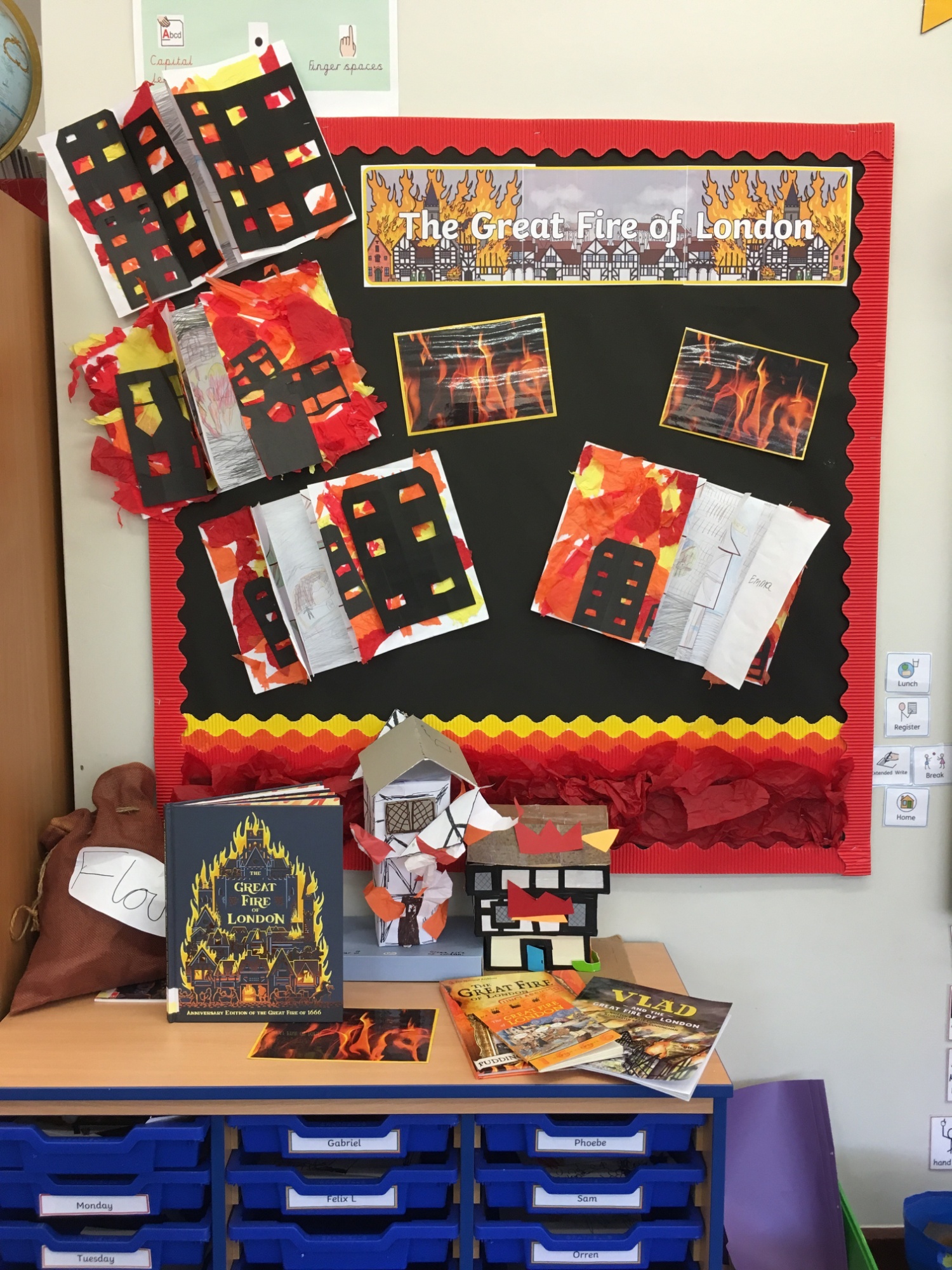 ---
PE Days:
Thursdays with Miss Smith
Fridays with Mrs Prentice
*All students are expected to have their PE kits in class ready to be used.
---
Please see our class timetable below.
Further information and updates to follow.