A Message From the Head of School
Mr Ollie Monro
Head of School for Trumpington Meadows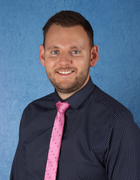 It is a great pleasure to welcome you to the Trumpington Meadows school website. We are a dedicated learning community located at the heart of the new Trumpington Meadows development which has grown considerably since the school opened in 2012. We are very fortunate to have a large, well-resourced site which we use to provide exciting learning opportunities beyond the basic curriculum - from foraging in Forest School and whole-school puppet extravaganzas to fencing workshops and visiting poets. We celebrate that we are a diverse, multi-cultural school that gives our children the opportunity to learn about their local area, and the world around them, and helps them to become the best citizens of the future they can be.
As part of the Trumpington Federation, we work closely with our colleagues at Fawcett and have a common curriculum and vision for our schools. We are dedicated to 'growing and learning together' and are always looking for opportunities to improve what we offer to our children, with the children very much involved through our school council and Year 6 jobs.
We foster creativity, empathy and resilience and want children to leave our schools both with the academic and social skills they need to succeed, but also with memories to last a lifetime!
At Trumpington Meadows, we are fortunate to have a dedicated staff team who work every day to deliver the best opportunities for every child in our care. We believe that Trumpington Meadows is a fantastic place to learn, and to work, and we would be delighted to welcome any new members of our community.
I hope you enjoy the snapshot of our school that our website provides. Please do come and see our school in action by contacting the school office for a tour - you'd be very welcome indeed!