Week 4 (22nd-26th June)
Please look at the 'Activity Ideas' tab for new ideas to do with your children this week.
Please look in the 'website links' tab for some links to phonics support.
Week 4 challenge: 22nd June
When something is symmetrical, we mean that it is the same on both sides. A shape has symmetry if a central dividing line (a mirror line) can be drawn on it, to show that both sides of the shape are exactly the same.
We would like you to make a symmetrical transient art picture. You could gather natural things from your garden or collect things you find when you are out walking such as petals, twigs, leaves. You could also use coloured paper to cut out shapes or use gems, shells or stones, if you have any, to create your pattern.
We would like you to complete the challenge by Friday 26th June and put it on Tapestry for us to see. Have fun!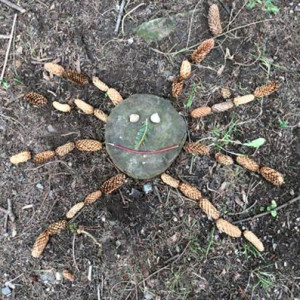 We would like to you to do some phonics REVISION this week. If your child has not yet learned /sh/ or /ch/ yet, then you will need to spend a little more time on this.
'sh' as in ship,shop, sheep. (Revision)
'ch' as in chop, chip, chap. (Revision)
The phonics resources are attached below. Please see the website links tab for some video and internet games that will support phonics learning and revision.