Senior Leadership Team
Our Leadership Team work across the Federation and have key areas of responsibility linked to the school improvement plan.
Executive Headteacher
Oriana Dalton
Head of School for Fawcett - Shameem Khan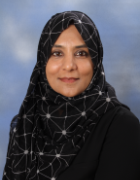 Welcome to our Federation where I have the privilege of being the Head of School of Fawcett and part of the Leadership team of The Trumpington Federation.
I am very fortunate to have had a broad experience of working in the finance sector before joining Education. Over the past decade I have worked across Essex, Hertfordshire and Cambridge in various capacities which include teaching, leadership and providing outreach support to other schools in the locality. My teaching experience ranges from Key Stage 1 through to year 6 in Key Stage 2, with specialisms in maths, assessment and history.
During my time in education, I have been committed to school improvement and raising standards in teaching and learning by ensuring that our curriculum provision for children is of high quality, engaging, stimulating and challenging to help improve outcomes across the board.
I joined the Federation in 2016 as an Assistant Headteacher at Trumpington Meadows then moved to Fawcett in 2019 to take up the role of Head of School. We are proud to have such a highly talented team of staff who are also committed to providing the school community with a rich and engaging learning experience which ignites their passion for lifelong learning.
Head of School for Trumpington Meadows - Sarah Buckerfield
Assistant Headteacher - Clare Wilkinson
Assistant Headteacher - Jemma Calverley
Assistant Headteacher - Kate Barham
I am Kate Barham and I joined the Federation in 2016. Prior to this, I had been teaching for a number of years at a Primary School in Cambridge before taking up an opportunity to teach at a British International School in the Middle East where I worked for 3 years.
Throughout my career, I have felt privileged to be a part of children's learning journeys, watching them grow in confidence and self-esteem whilst overcoming challenges and learning new skills – both in terms of mental well-being and citizenship, as well as academically.
In a previous role at a leading school for SEAL and PSHE, I supported colleagues from other schools as part of the County PSHE Service initiative, at a time when the SEAL (Social Emotional Aspects of Learning) and RSE (Relationship, Sex Education) curriculums were being introduced across the County.
My role within the Federation has recently changed from being the lead for Inclusion to being the Assistant Head based full-time at Fawcett Primary school.
Assistant Headteacher - Ollie Monro
Having studied at Cambridge and Warwick, I joined the Federation in 2014, firstly in Year 4 at Fawcett before moving to Trumpington Meadows to become the Year 6 teacher, where I braved the high ropes on the residential trip and learned to love semi-colons! As part of my wider responsibilities at the Federation, I have led Maths and Key Stage 2 and have thoroughly enjoyed working with children and staff at both schools; I also served on the governing body for four years. Outside of school, I can often be found with my nose in a history book or searching local shops for extra ties to add to my ever-growing collection!
Federation Business Manager - Graham Ingrey
In addition, we currently have two TLR post holders.
Ollie Monro who leads on the development of Mathematics