Learning Newsletters and Curriculum Information
Timetable: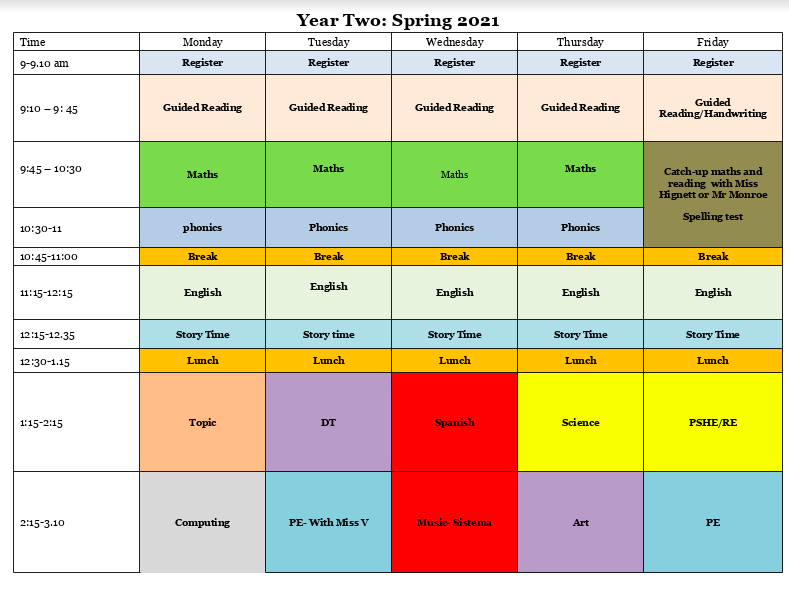 Please see the newsletter below for an over view of the learning we will cover over the next half term.
Autumn 1 and 2
Our topic for this term is 'The Stories People Tell'. We will be exploring stories by authors like Julia Donaldson, Oliver Jeffers and Roald Dahl. We will be learning about what makes a good story and comparing different tales. In Science, we will be learning about animals and their habitats, starting with the snail from the story 'Snail and the Whale'. Please read our Autumn 1 newsletter below for more information.
Spring 1 (6th January-15th February)
Our Topic this term is 'the Great Fire of London'. We will be learning about all of sequence of events during the Great fire, why the fire was able to spread so quickly, and what changes came after as a result of the fire. We will make our own Tudor houses to burn in the playground to demonstrate why London's crowded streets meant the fire could spread. In Science we will be thinking about different materials, linking this to our topic to conduct experiments on different materials to test their suitability for different tasks. Please take a look at our curriculum newsletter for more information, and to see the variety of homework tasks children can take part in at home.