HOME LEARNING!!
Update: Thursday 2nd April
Hello everyone!!
Today, some members of the Trumpington Federation are meeting together, virtually, to read to you our own version of the book: Stay at home.
Find your template and certificate at the bottom of this page 🦸‍♀️ 🦸‍♂️
---
Please see the weekly page for activities and work to complete at home.
All children have been sent home with additional reading books, please encourage your child to read as much as possible at home.
All children have also been re-sent their education city passwords. Education city has lots of maths and phonics tasks that have been uploaded.
Check out the Home Learning Tab under The Trumpington Federation for additional resources to support the children at home.
Here is a suggested timetable for your day!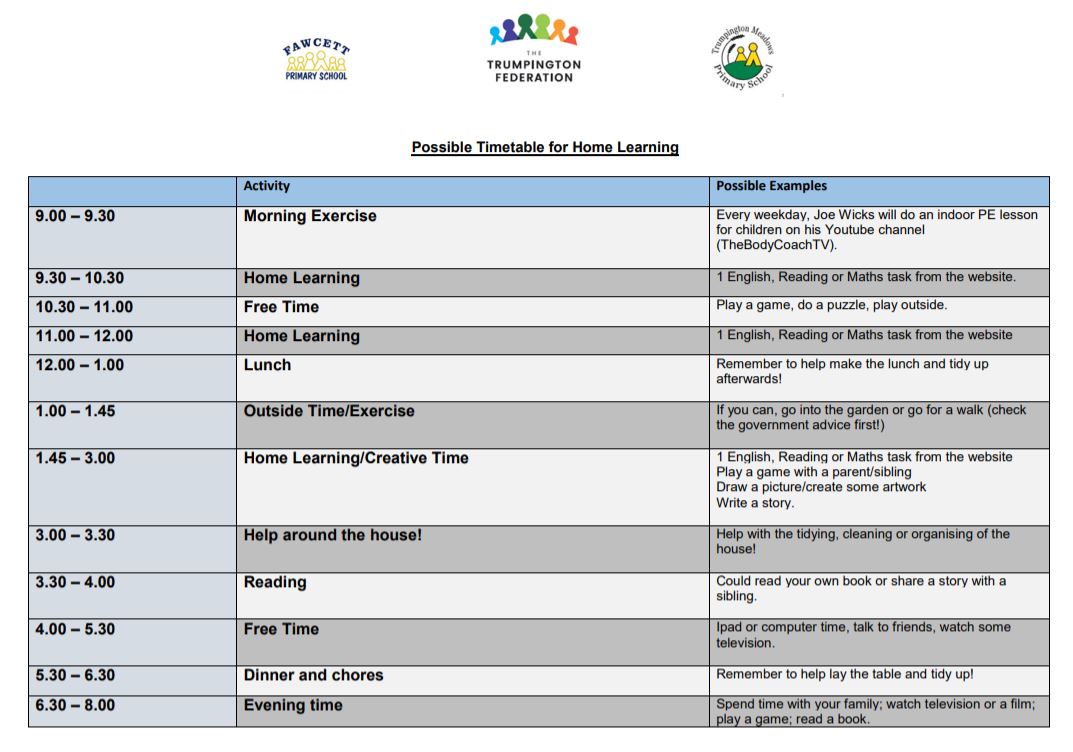 USEFUL WEBSITES FOR ADDITIONAL LEARNING:
Lots of website are offering amazing free resources to help parents and children with learning at home. Click on the links below and check them out!
https://www.worldofdavidwalliams.com/
White Rose Maths Learning (Video tutorials for parents and worksheets).
Scholastic Bookflix (online books and games)
Oxford Owl (Over 100 free ebooks for all ages)
Classroom Secrets home learning packs (maths, reading and writing activities for all year groups)
Twinkl School Closure Packs (lots of resources for most subjects in all year groups)
BBC Bitesize (Interactive resources and videos for all subjects)
Phonics Play (Free phonics games and videos)
Topmarks (Free maths games)
Storytime Online (free read aloud video)
The body coach (physical fitness videos)
Cosmic Kids Yoga (Yoga videos)
Karate Cats (BBC grammar game)
Instilling Inspirations (posting daily videos focussing on various subjects)
WWF Online learning resources (crafts, learning opportunities, at home science)